Accommodations in Chicago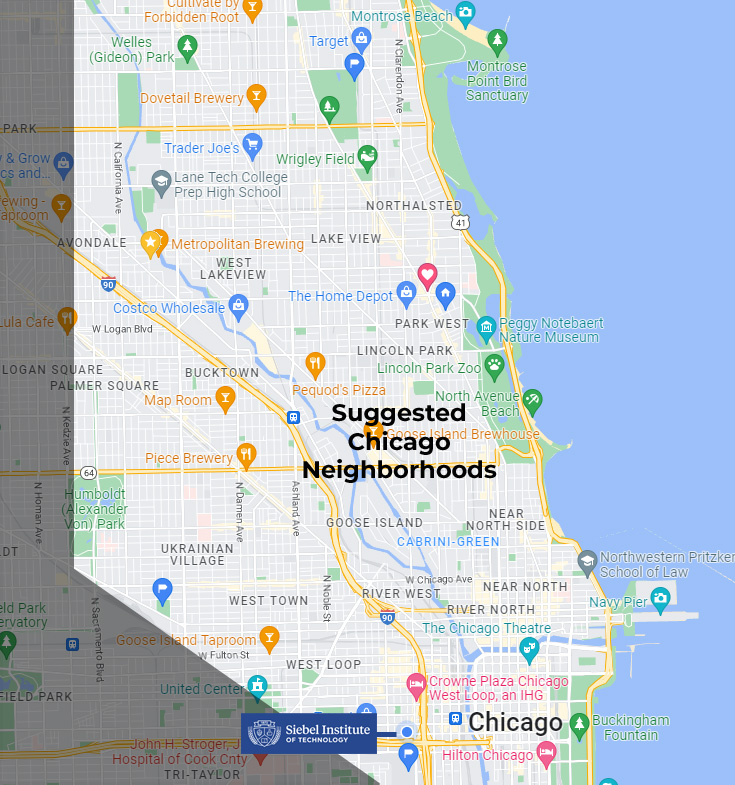 Address
The Siebel Institute campus in Chicago is located at:
322 South Green Street
Suite 100
Chicago, Illinois  60607
United States of America
Further information
Students are responsible for all aspects of arranging their accommodations during their training. While we do not have dorms available in any of our host cities, various hotels, hostels and furnished apartments in our area offer special rates. As one of the world's top tourist destination cities, Chicago has an amazing range of accommodations to choose from.
One of the most important choices visitors must make is the neighborhood in which they will stay. Our location in the West Loop lies on the edge of downtown Chicago, so hotels within minutes' walk to our location are plentiful. For those attending courses longer than one week, the areas to the north of our campus offer lower priced accommodations compared to the downtown core. These are amongst the safest and most fun areas of Chicago, with bars, restaurants, shopping and music venues aplenty. The most popular neighborhoods among our students are Lincoln Park, Lakeview, Logan Square, Bucktown and Wrigleyville.
You can request a current list of favored accommodations by contacting Cady Sanchez by email at
cadysanchez@siebelinstitute.com
.
Students can also choose to find accommodations using their own resources such as internet-based sources like
Airbnb
and
VRBO
. These accommodation services are best when choosing accommodations for long-term courses lasting more than one week. The map shown here indicates suggested neighborhoods chosen for proximity to Siebel Institute. These neighborhoods generally offer great public transportation options, a wide selection of bars and restaurants, and they are
among the safest areas in Chicago
.
Siebel Institute Chicago Campus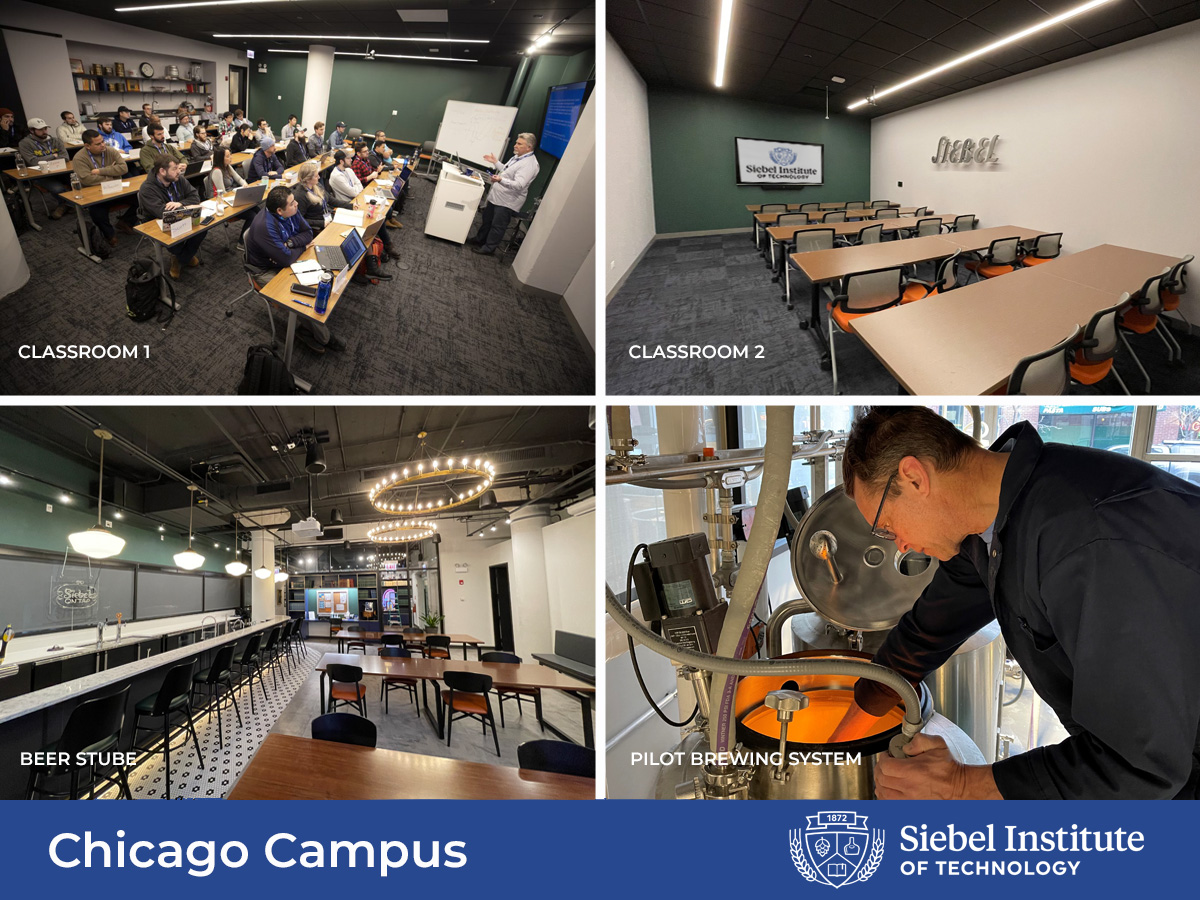 Address
322 South Green Street
Suite 100
Chicago, Illinois  60607
United States of America
Further information
About Our Campus
CLICK HERE to view a video on Siebel Institute filmed for the syndicated TV show "Innovations with Ed Begley Jr."
Over our illustrious history, Siebel Institute has remained in Chicago where we have proudly served the international brewing industry since 1872. The current Siebel Institute facility is located on the edge of Chicago's downtown core, surrounded by high-tech businesses, upscale high-rise apartment complexes, and next to the sprawling campus of the University of Illinois Chicago.
Our facility is compact yet well-appointed, with features that include:
A large main classroom and a mid-sized secondary classroom that also functions as a breakout meeting room. Our moderate classroom sizes help to facilitate interaction between students and instructors during their time attending Siebel Institute and World Brewing Academy courses, making for a dynamic learning environment.
A pilot brewery designed for conducting research and recipe development for breweries and brewing-industry suppliers. Designed and manufactured by DME, the Siebel pilot brewing system allows for highly accurate process control and record-keeping, which is a hallmark of our contract brewing services.
The Beer Stube, which acts as the center of student activity during class breaks and at the end of a school day. The Beer Stube is a Siebel Institute campus tradition, playing host to thousands of brewers throughout our school history including some of the most famous names in brewing. It is where students gather to enjoy their lunch, experience samples of beer from our brewery or from breweries around the world, and share in their educational adventure while at our school.
Chicago: America's Beer City
When you step outside of the Siebel Institute facility in Chicago, you will find yourself in one of the most vibrant cities in the world. Located in the city's West Loop / Greektown district, our campus is on the western edge of the downtown core. The school is surrounded by bars and restaurants ranging from convenient and affordable casual eateries to some of the finest dining locations you can experience in the nation.
With excellent public transportation options, our Siebel Institute guests can discover our city and region quickly and safely. We are only a minute's walk from major bus routes and the famous "L" elevated train system. Whether you are arriving by car, train, or air, our location is easy to reach. When you leave class at the end of the day, you can shop to your heart's content on nearby State Street and the "Magnificent Mile" on Michigan Avenue. Sports fans can travel to any of our major stadiums with ease via bus or train. As one of the live music capitals of America, you can catch up-and-coming acts or famous bands in stadium performances practically every night of the week.
Your brewing-related education doesn't only happen within our classroom walls. We have over a dozen breweries within a short distance from the school, with around 200 breweries in Chicago and the surrounding area. With "beer bars" and breweries large and small serving practically every style of beer available, Chicago is truly "America's Beer City", giving Siebel students an unforgettable experience in Midwest hospitality and beer culture.
Click the links below to see more about Chicago, our amazing city!
Parking near our facility
While we do not have onsite parking available, there are three public parking lots within a short distance of our facility.
Outdoor parking at the southeast corner of Halsted and Van Buren adjacent to Giordano's Restaurant. The lot is serviced by an attendee in a kiosk onsite, with hours generally operating from 8:00am to 7:00pm. This is the closest parking lot to our location (3-minute walk).
Indoor parking on Quincy Street just east of the corner of Halsted and Quincy. This is a multi-floor automated parking lot located at the rear entrance of 765 W. Adams (Arkadia Towers) on the south side of the building as approached from Halsted St. (5-minute walk).
Indoor parking at 1035 Van Buren at Aberdeen St. Located in the Landmark West Loop building with the entrance facing Van Buren St. (6-minute walk).
There are online services available that will direct you to open parking spaces nearby:
Park Whiz: Click here to search for parking near our location
Spot Hero: Click here to search for parking near our location
Street parking is available, but as our community serves both business and residential traffic, street parking can be difficult to find. When choosing street parking, pay attention to signs indicating parking restrictions including limited hours and permit-only parking.
Doemens Academy Munich Campus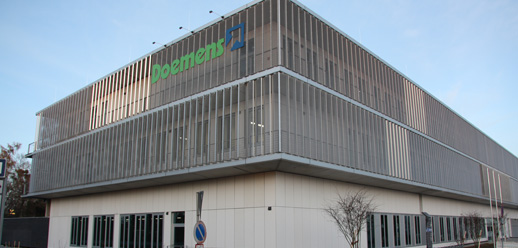 Address
Lohenstraße 3
D-82166 Gräfelfing
Munich, Germany
Further information
CLICK HERE to view the 2020 video on the new campus of Doemens Academy
Opened in the Fall of 2021, the new Doemens Academy building in Gräfelfing offers a future-oriented education center for the brewing, beverage and food industries, with an upgraded brewing pilot plant, laboratories, and packaging facilities. Just some of the features of the new facility include:
Brewing center (Technikum) with pilot and training brewery (5 hl) incl. fermentation and storage cellar/filtration, malthouse, filling and packaging pilot plant
Cafeteria with kitchen and dining hall
Service laboratory with rooms for microbiology and biotechnology
Practical training labs
Multiple seminar rooms
Located in the municipality of Gräfelfing, the Doemens campus is just minutes away from the heart of downtown Munich. With a world-class public transit system, students can easily discover the charms of this beautiful city and its rich history in brewing. In the warm months, Munich's famous beer gardens invite all to relax under chestnut trees with a fresh pretzel and a perfect pilsner. The winter months take people indoors for a pint of Dunkel and a hearty plate of traditional German food, and you can easily catch a train to other fascinating European destinations within just a few hours of Munich.
Stroll around and enjoy the amazing old architecture, catch an FC Bayern Munich soccer game, visit a museum, see a concert from some of the top names in music… it's all part of what awaits with your Doemens Academy experience.