Join the Alumni Network today!
Since its founding in 1872, Siebel Institute of Technology has hosted thousands upon thousands of students over hundreds of educational programs, courses, workshops, and presentations. Throughout the history of contemporary brewing practice, graduates of Siebel Institute have populated breweries and beer-related companies around the world, helping to build a thriving industry based on the sciences, technologies, and principles taught in our school. We are immensely proud of how the individual and collective accomplishments of our alumni have shaped the commerce and culture of beer and brewing over the 150 years of Siebel Institute, and we hope to stay in touch with each of our former students as we continue to build the future of brewing.
Siebel Institute has commissioned the services of Graduway, an industry leader in online alumni services, to help us build and manage our alumni communications. If you have participated in programs, courses, or other educational offerings with Siebel Institute or World Brewing Academy, you can register now for the Siebel Institute/WBA Alumni Association to receive news and announcements regarding fellow alumni, upcoming events, mentoring opportunities, job postings, and other benefits.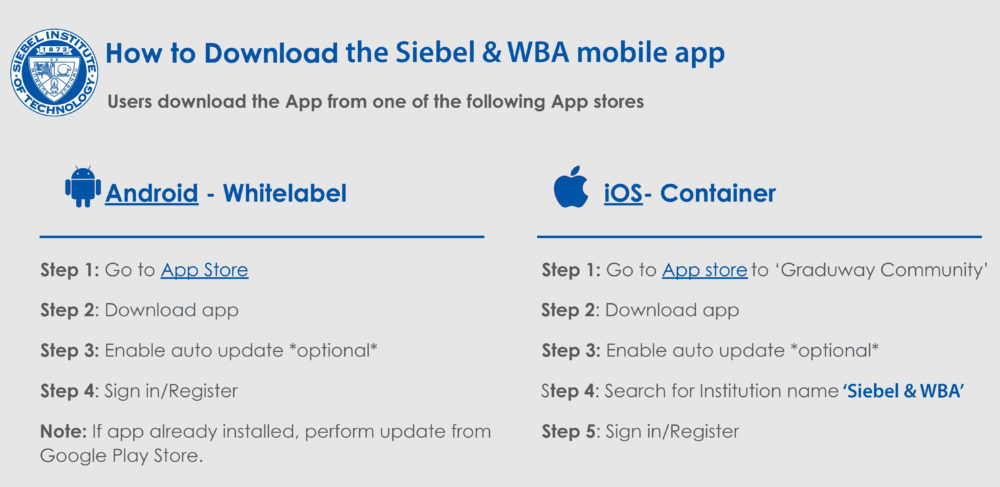 For iOS, please note that on the IOS platform you are searching for the graduway community app. After you log into Siebel Alumni within the Graduway app, the app icon and platform will change to Siebel
If a newsletter from time to time is all you need, register with the form below: