Scholarship for Campus courses
Glen Hay Falconer Foundation Brewing Scholarship
In collaboration with the Siebel Institute of Technology, the Glen Hay Falconer Foundation is offering one full-tuition brewing education scholarships in 2023
The scholarship is for the World Brewing Academy (WBA) Concise Course in Brewing Technology, conducted in Chicago, November 6-17, 2023.  The WBA Concise Course in Brewing Technology is a two-week intensive intermediate level course that covers every topic critical to successful brewery operations. The course is designed for brewers pursuing a wider knowledge of professional brewing standards and techniques to advance their brewing careers, as well as individuals planning to enter the brewing industry. The WBA Concise Course in Brewing Technology scholarship includes a $1,000 stipend to help offset travel and lodging expenses.
---
Rules and regulations
Applicants must be reside in one of the following states: Washington, Oregon, Idaho, Montana, Wyoming, Colorado, Utah, Nevada, California, Alaska, or Hawaii.
The full application must be received no later than April 20, 2023.
---
How to apply
Candidates applying for the Glen Hay Falconer Foundation Brewing Scholarship must include a completed application. On the form, applicants must indicate that they are applying for the "Glen Hay Falconer Foundation Scholarship".
All applicants must meet the course requirements as listed on the Siebel Institute website and in the Siebel academic catalog.
Additionally, please answer the following questions in essay format:
Please describe your career goals and relate how the Siebel "WBA Concise Course in Brewing Technology" will help you meet these goals.
The craft brewing industry has undergone many changes over the past decade with the rate of change accelerating in the last few years.  Please describe the challenges and opportunities this has produced and how you will be a positive force in shaping the future of the industry.
Please discuss how your accomplishments have demonstrated your dedication to the art of craft brewing.
Please indicate how you will help further the goals of the Glen Hay Falconer Foundation.
Please provide two letters of recommendation, with one letter being from a professional brewer, in support of your application, along with relevant contact information for all parties.
Note the content of your application and recommendations are very important, as this information is all the Selection Committee has to evaluate your candidacy. Please make sure to answer all four questions separately in essay format.
All the above is to be sent for arrival by April 20, 2023 to:
Siebel Institute of Technology
ATTN: GLEN HAY FALCONER SCHOLARSHIP
322 South Green Street
Suite 100
Chicago, Illinois  60607
Note that all applications must be on standard paper and single sided pages only.
Note that all applications must be mailed via UPS, FedEx, DHL, or USPS
(Regular, Priority or Express, but not Registered or Certified)
All applicants and the scholarship recipient will be contacted directly by the Glen Hay Falconer Foundation by May 25, 2023.
---
About the Glen Hay Falconer Foundation
The Glen Hay Falconer Foundation is a non-profit organization created to commemorate and celebrate the life, interests, and good works of a well-loved and leading Northwest brewer.
The Falconer Foundation has granted over 52 scholarships since 2004, and is dedicated to promoting knowledge and expertise in the craft brewing industry in memory and honor of Glen Hay Falconer.
Visit glenfalconerfoundation.org
---
About Glen Hay Falconer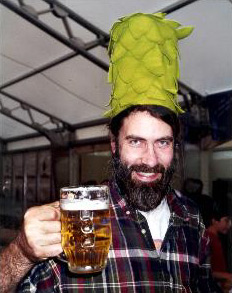 Passion, dedication, and creativity defined Glen Falconer's beers and his entire approach to life.Glen began his brewing career as an avid homebrewer and dedicated member of the Cascade Brewers Society, a clan of skilled homebrewers based in the Eugene/Springfield, Oregon area. As a professional brewer, Glen continued to support the craft of homebrewing by providing access to brewing ingredients, procedures and unique beer recipes.
In 1990, Glen followed his dream and pursued a professional brewing career, beginning at Steelhead Brewery in Eugene. Glen completed the Siebel Concise Course in Brewing Technology in 1994. Glen then refined his skills at the renowned Rogue Ales in Newport, Oregon, working side-by-side with his close friend and mentor John Maier.
In 1996, Glen became head brewer at the Wild Duck Brewery in Eugene, providing six regular beers on tap as well as a wide variety of specialty ales and lagers each season. Glen continued as head brewer at the Wild Duck until his untimely death in 2002.
Enlarging on the tradition of brewing, laughing heartily and embracing adventure fully represented Glen's life. While Glen won numerous professional craft brewing prizes and accolades, perhaps his finest accomplishment was the back-to-back Gold Medals received posthumously for his Auld Gnarly Head Barley Wine at the 2002 and 2003 Great American Beer Festival.
---