Download the recipe for "J.E. Siebel 1-Fifty" Classic American Pilsner by clicking this link.
To mark the 150th anniversary of the Siebel Institute of Technology in 2022, we put together some great events during this past year including an alumni get-together at the Craft Brewers Conference in Minneapolis, and a brand-new Barrel Program Management Workshop during the Festival of Barrel-Aged Beer in Chicago. Yet, we also took on one project that was a months-in-the-making "labor of love" for those who work at Siebel in celebration of our brewing industry legacy.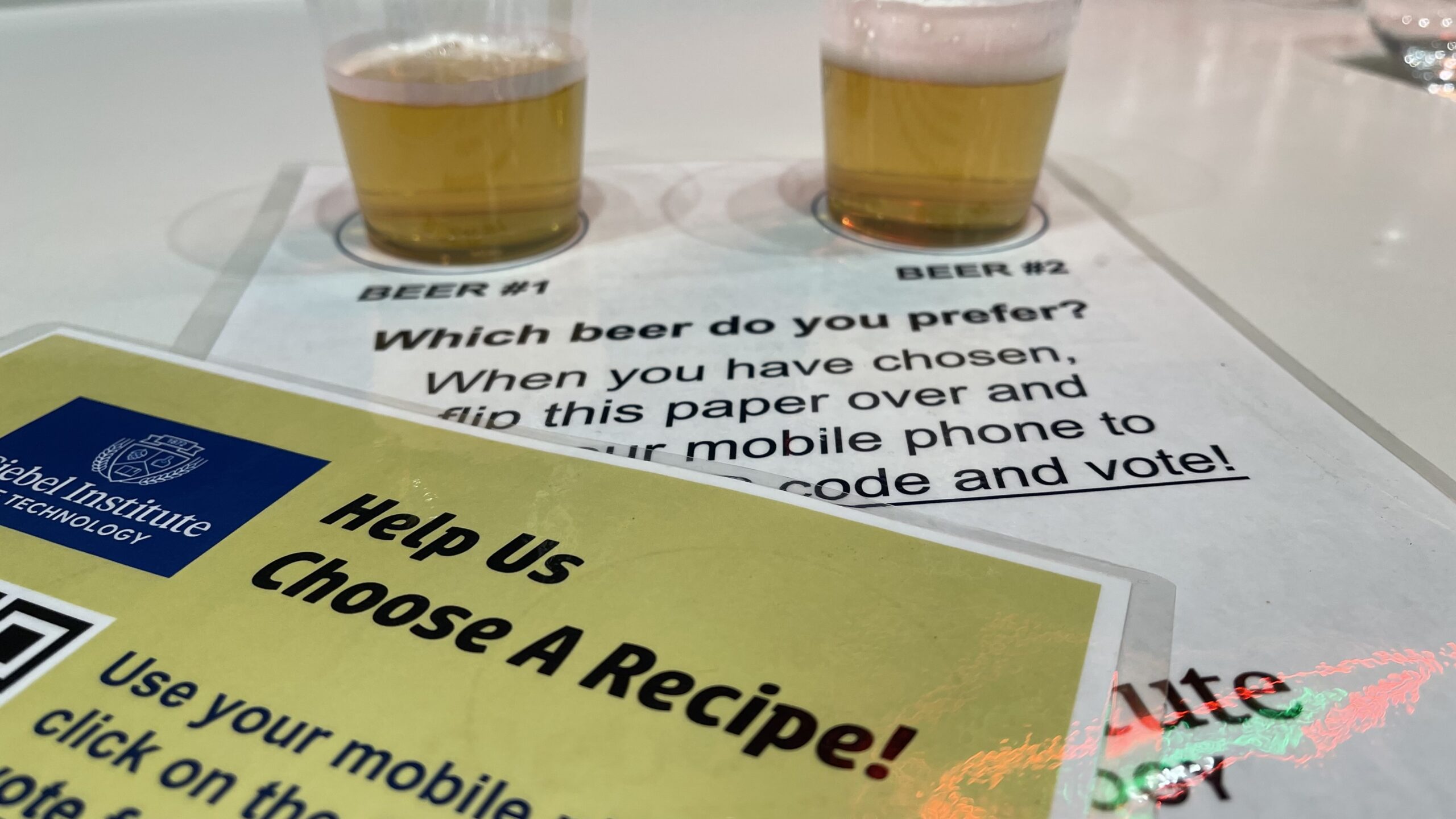 A taste test setup for comparing two beer recipes
We are, of course, a brewing school. We have an excellent research facility that can replicate beers of practically any style, so it made sense to brew a beer not only in honor of our company, but to salute our founder, Dr. John Ewald Siebel. We came to an obvious decision as to which type of beer style would best celebrate our history, which was a Classic American Pilsner or CAP.
But why a CAP? This beer style dates to the late 1800s, which coincides with the arrival of Dr. Siebel to America and the establishment of the school bearing his name. "Classic American Pilsner" is a recognized style within the major organizations that define beer styles for competitions. For example, the Beer Judge Certification Program page at https://www.bjcp.org/beer-styles/2c-classic-american-pilsner/ provides this brief style overview:
"A version of Pilsner brewed in the USA by immigrant German brewers who brought the process and yeast with them when they settled in America. They worked with the ingredients that were native to America to create a unique version of the original Pilsner. This style died out after Prohibition but was resurrected as a home-brewed style by advocates of the hobby."
One of those early immigrant German brewers was Dr. J.E. Siebel. In fact, Dr. Siebel's most recognized contributions to contemporary brewing research in the use of commonly available alternative fermentables (adjuncts) in the production of beers produced using 6-row barley malt. Being an advocate of adjunct brewing caused many of his peers in Europe to diminish his work. Brewing historian Dr. Greg Casey states in his History and Legacy of American Lager Beer "A staunch advocate for adjunct lager beer, Dr. Siebel had little time for period "connoisseurs" who claimed adjunct lager beer was inferior to all-malt lager beer." Dr. Siebel's focus on the technical development of processes used in the creation of adjunct beers would eventually influence the global brewing industry, resulting in brewing techniques that have since been embraced by breweries worldwide toward making adjunct lager beers the dominant global beer style.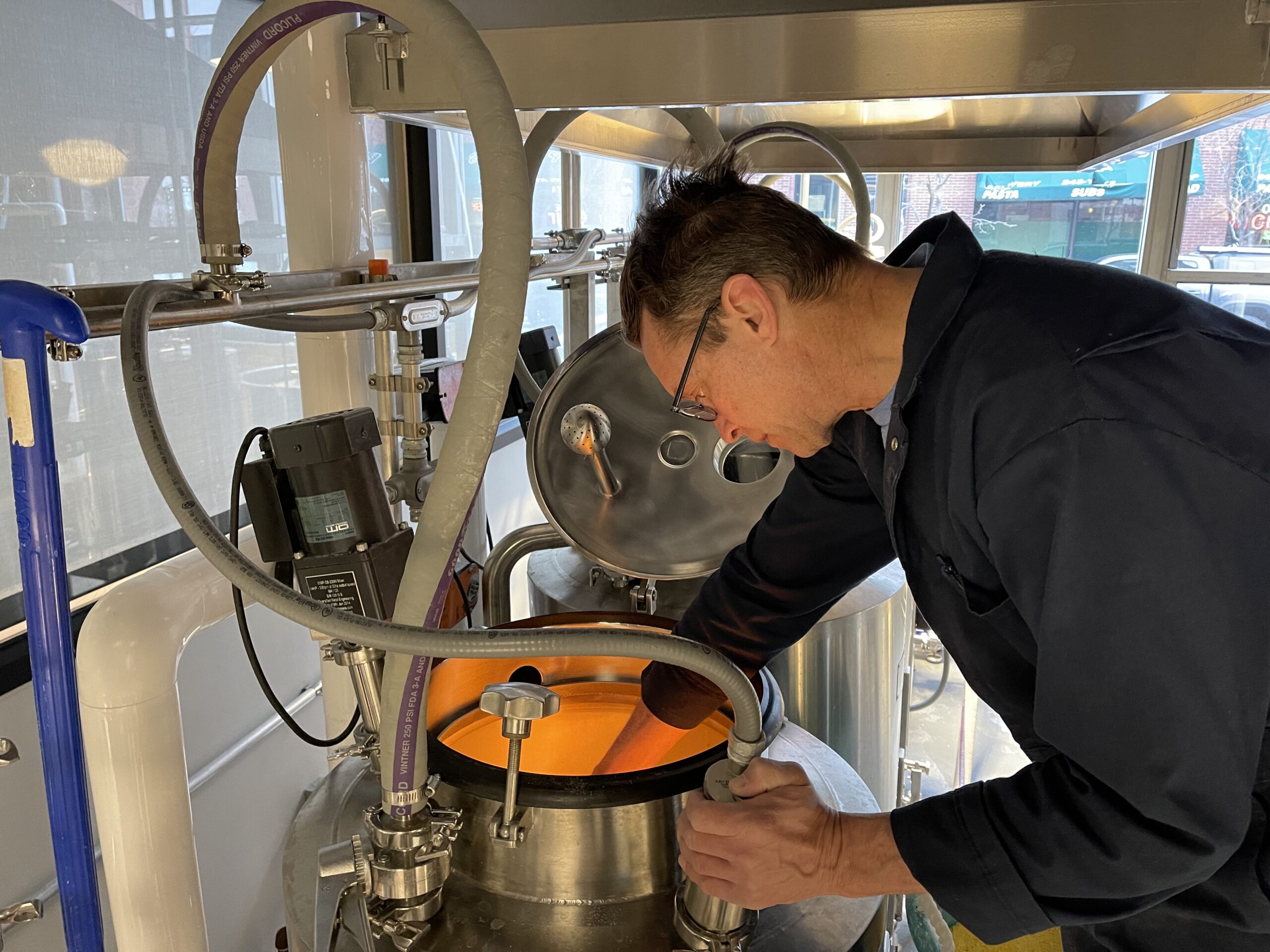 Research Brewer Tim Foley mashing in a batch of J.E. Siebel 1-Fifty
With the CAP beer style chosen, the recipe needed to follow some "rules". John Hannafan, vice president and director of education of Siebel, along with research scientist and pilot brewer Tim Foley, formulated a recipe that used ingredients that would "as close as possible" typify what a late 1800's American Pilsner may have been like, including the use of corn and 6-row barley malt. "The use of 6-row barley malt was important," states Hannafan, "as this was widely used in those days, and the enzymes contributed by the 6-row malt assisted with the conversion of the corn adjunct, and use of the adjunct should make for a smoother tasting beer." Both hop strains used were traditional American and German varieties with "roots" in brewing that date back generations. It was decided from the outset that we would brew two batches of the beer with slight differences in their formulation. Once both beers were ready, we would choose which of the two recipes that would be selected for release to the public as an "open source" recipe for anyone to brew. We did not choose which recipe to release, but instead let the beer-tasting public decide.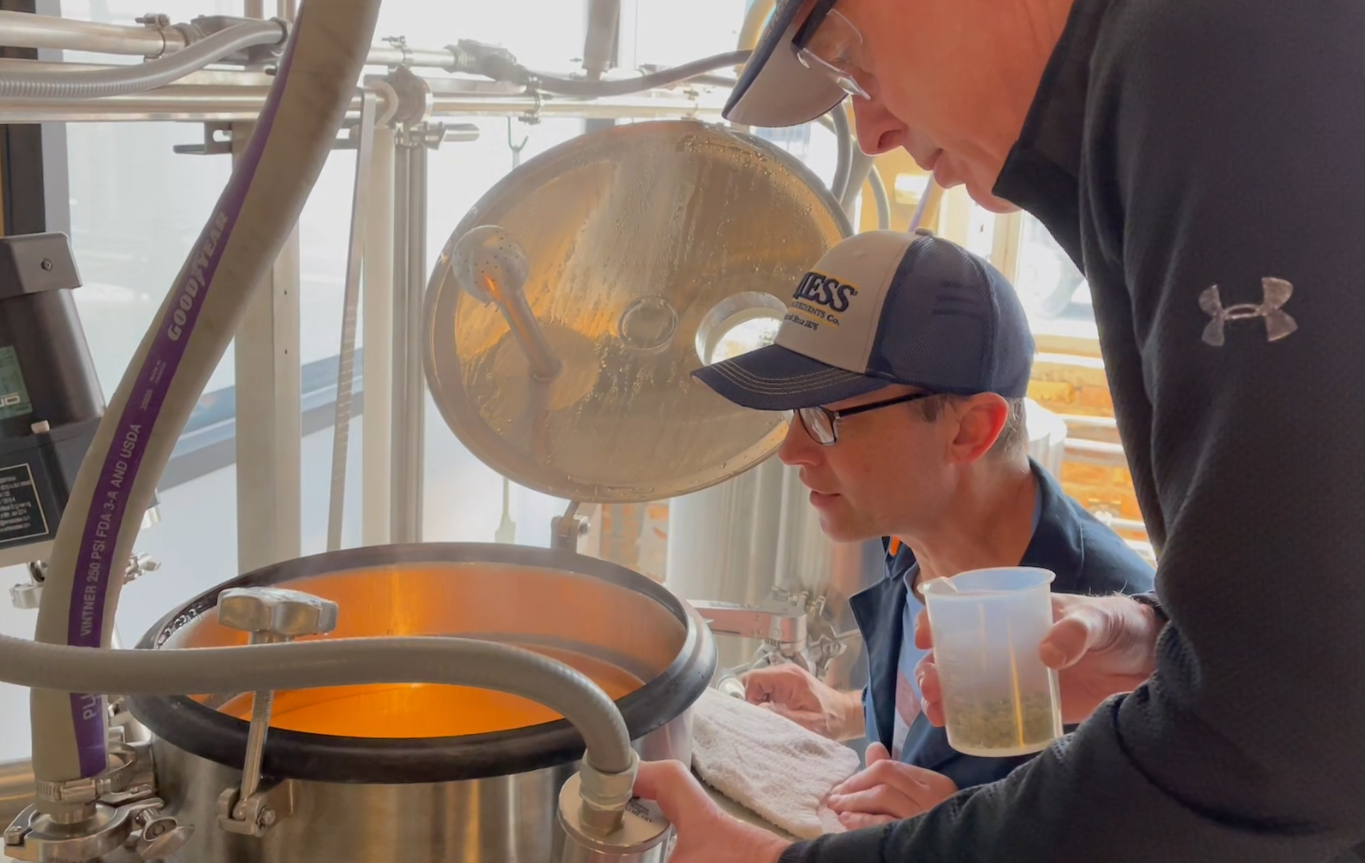 Siebel Vice-President John Hannafan readies a hop addition under the watchful supervision of Research Brewer Tim Foley
Once both beers were finished and kegged, a name was chosen for them; "J.E. Siebel 1-Fifty". The beers were introduced to the tasting public in a series of events at Siebel Institute and at breweries in Chicago. Versions #1 and #2 were served side-by-side, with tasters asked to vote for their preference. The beers were practically identical except for one key parameter, that being #1 had a bitterness content of ~33 BUs and #2 clocked in at ~25 BUs. This minor difference resulted in a wide range of comments about the differences. Trained, experienced tasters who took part could generally spot the differences, but most others could not, and in some cases, believed batch #2 to be more bitter than #1, which the opposite was true. The nearly 300 tasters positively commented on how good the beers were, and once the results were compiled, a clear winner was identified, that being #2, which many tasters compared to "a good Helles" in style.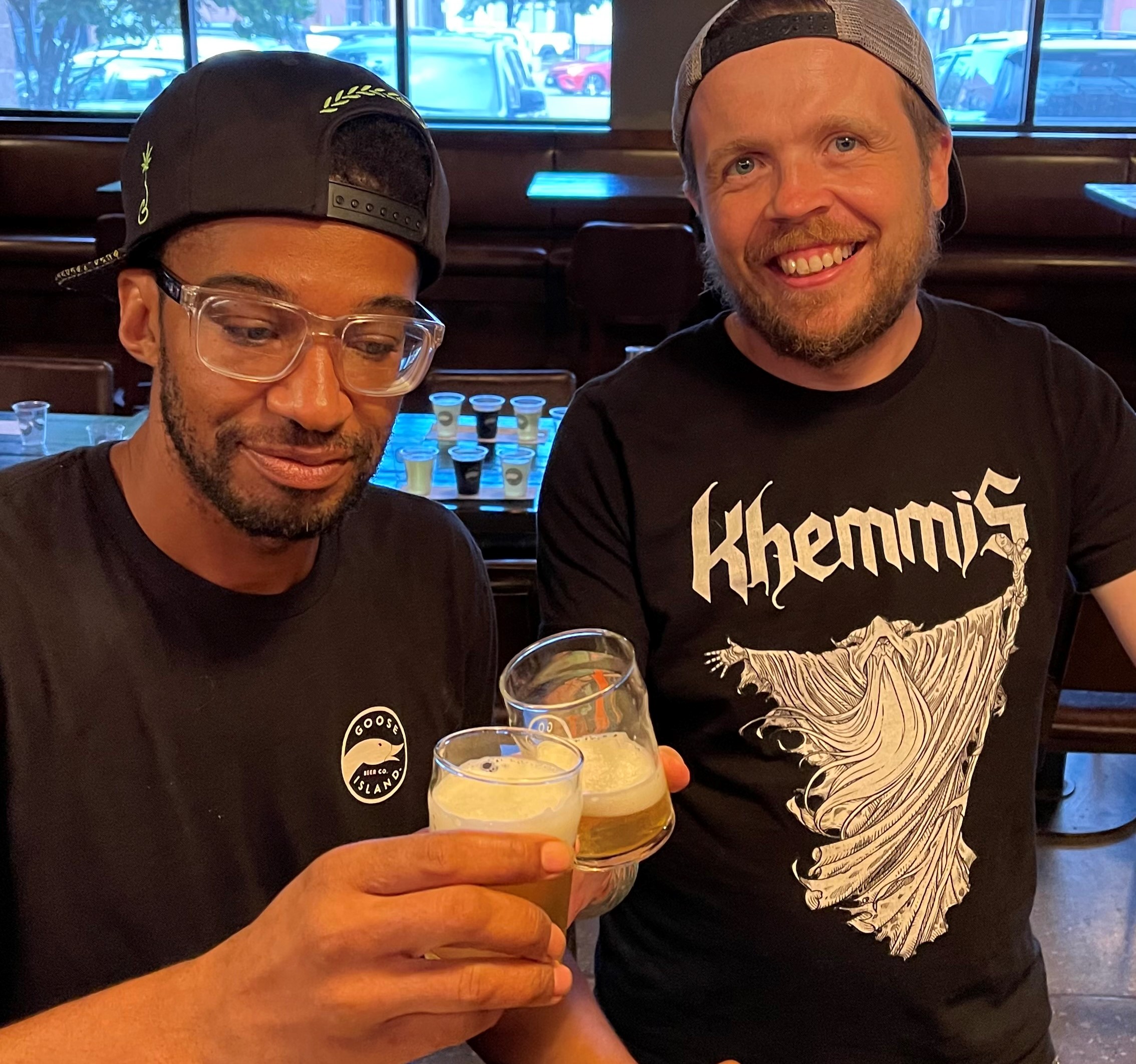 Sam Ross and Mike Jacobs of Goose Island Brewery toast with a J.E. Siebel 1-Fifty at the Goose Island Clybourn St. tasting event.
With a winning recipe now chosen, Siebel Institute is proud to present this recipe to the brewing community. The recipe information is shown in a way that allows brewers to adjust ingredient proportions and brewing processes to the realities of their own brewing system. Whether making 5 gallons at home or 500 gallons on a commercial system, the recipe guidelines for Siebel 1-Fifty should help you brew an excellent version. If you would like to use the exact same ingredients as we used, please drop us a line at info@siebelinstitute.com and we can give you the supplier information.
When you brew this beer, please let those who drink it know that this is part of a celebration of America's oldest brewing school, as well as part of 150 years of American brewing history. The name of the style, "Classic American Pilsner", speaks to its easy-drinking nature, as elegant as it is refreshing. We hope you enjoy brewing this recipe, and please raise a proper glass of 1-Fifty to the work of Dr. Siebel and all those who have contributed to the success of our school, as well as our many generations of graduates.
Download the recipe for "J.E. Siebel 1-Fifty" Classic American Pilsner by clicking this link.
Keith Lemcke
Marketing Director
Siebel Institute of Technology